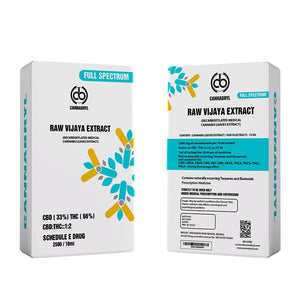 Description
Give a chance to the exclusive Cannabryl Decarboxylated Vijaya Medical Cannabis Extract composition containing no plant waxes, chlorophyll and naturally occurring Terpenes and Flavonoids to get the full spectrum of medical cannabis benefits.
One of the major advantages of using full spectrum CBD is that all the compounds work in harmony, and through this unity of active ingredients, the strength of the medicine becomes stronger and the positive effects are higher. This is also known as the 'entourage effect'.
While processing our raw cannabis, all of the phytochemicals such as terpenes, flavonoids and cannabinoids stay in the extract while the non-active ingredients such as waxes and lipids are eliminated.
This leaves us with a full spectrum extract that is at par with medicinal grade marijuana.
Ratio of CBD: THC - 1:2 or 33/66. 1 ml syringe contains 20 drops of medicine. Contains full spectrum of cannabinoids (CBD, CBDA, CBDV, CBG, CBC, CBN, CBGA, THCA, THCV, THC).
2500 MG
2500 mg of Cannabidiols per 10 ml extract
833 mg of CBD and 1667 mg of THC
Dosage
It's difficult to calculate the dosage as no two people will react the same way the first time. The molecular system that balances the processes within the body varies from person to person, and so the dosage isn't going to be the same.
Benefits
Anti-seizure
Relief from muscle spasm
Helps with anxiety
Pain relief
Treatment for psychotic disorders
Caution
Do not purchase/use this product if you have glaucoma
Do not use this product if you have liver issues
Do not use this product if you are pregnant or breastfeeding
Effect
Strong Entourage Effect
Note
A Doctor's prescription is required to purchase the following product.